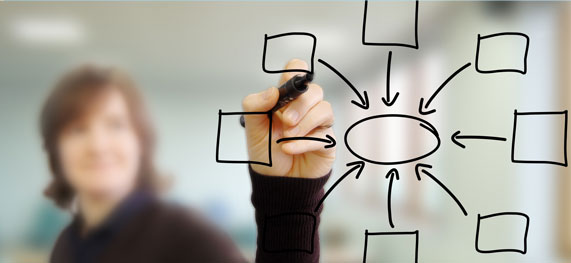 Sales Managers constantly search for new sources of leads to provide the sales team. Qualified leads are as good as gold for a sales manager, still it is often found that most organizations lack a good lead management strategy.

A good lead management strategy would guide a sales manager to better understand the supply of leads to the sales funnel, create plans to generate qualified leads and manage the funnel to improve the yield of opportunities and improve sales.

You could follow these six simple steps to create or improvise your lead management strategy and set up a robust process to manage and monitor leads.

# 1 Set clear goals
First, you need to set clear sales targets and a timeframe in which to attain these goals. Your average sales per customer and past lead conversion rates and average time to closure would determine the leads you would need to supply to the funnel in order to succeed

# 2 Plan on a lead acquisition strategy
Now determine the various sources of leads that you could leverage. Look at inbound marketing strategies like content marketing, SEO, social media engagement and outbound marketing strategies like pay per click, banner Ads, PPC, Email marketing and direct mail. Depending on your industry and segment your strategy may vary. For each strategy define a budget, commit resources, set expectations and set quality parameters and timelines to achieve results. Ensure that put in place measures and a frequency on which to monitor progress. Remember what cannot be measured cannot be improved

# 3 Lead Scoring and Lead Segmentation
Clearly define the attributes of your lead database for e.g, Lead demographic data, Contact information, Lead Source, Industry Category and Segment, Financial information, Location information etc. Create a lead scoring criteria to score leads as per the attributes of the leads, you could also set up negative lead scoring for the lead that designates leads as a poor fit. For e.g. a lead identified to be low on budget and missing contact information should not make it to the next stage
Customers do not like generic marketing messages hence you will requires different narratives of your product to different customers. Hence segment your leads into list based on criteria so that you could create personalized narratives that would appeal to your customers.

Your CRM tool should help you analyze the effectiveness of your lead acquisition strategy by looking up the lead data from different dimensions to identify what works best for you and what strategy needs to improve.
For e.g. you could monitor leads that have generated most profitable opportunities and trace them back to the source, keep a watch on metrics such as lead to sales conversion by source, by sales representative, by product, by location so that you know your "winners" and build your sales strategy around them

# 4 create a plan to nurture leads
Most B2B sales do not happen on the first touch with your prospect. Researchers say that it needs on an average 7 touch points with your customer from the first interaction to deal closure. Depending on your sales cycle your customers may be at different stages of the funnel. There could be a Time, Budget Authority or Need issue because of which the prospect is not ready to buy at this time. Ensure that you have a well though through engagement plan so that you could nurture your leads as they move through the Journey. Make sure your marketing narrative is repeated with each touch with authenticity and at each stage amplify the need and keep new reality. Hard-work and persistence would ensure you succeed.

# 5 Review results and revisit each step in the process to continuously improve
As you keep moving you need to gather data and process the information. Here a CRM solution can be very helpful. The system should be able to tell you your actual funnel compared to your desired funnel, your conversion ratios from New Prospect to an opportunity, how many appointments are being scheduled and how many are converting to an opportunity, conversion from an opportunity to closure, what are your average tickets sizes are they close to your original estimates. What opportunities are falling through and to whom are you losing those opportunities and Why. A good CRM solution well implemented would help you get answers to these vital questions. PMAM CRM is one such CRM solution that would help you achieve these objectives.
Successful sales teams who outperform the competition invariably have a well-defined sales management strategy and commit resources to the process. The efforts invested on formulating a lead management strategy would lead to sustained sales growth.